XTEND-LIFE CERTIFICATIONS, MEMBERSHIPS & QUALIFICATIONS:
Support your lung health against air pollutants
Environmental pollutants are more prevalent today than ever before. While we can control so many aspects of our health and well-being, it is a lot harder to control the air we breathe.
Airborne pollutants affect millions of people world-wide and lung problems are now among the most common of all ailments. COPD, emphysema, lung cancer, bronchitis or cystic fibrosis are all examples of such health issues. In addition, people who experience hay fever, difficulty breathing, runny nose or congestion, headaches, skin problems and difficulty concentrating may be suffering from the effects of environmental pollution.
Even in places with no obvious air pollution, toxic chemicals from furniture, carpets, cleaning products and laundry detergents all contribute to everyday bodily stress.
It's time to take action
Out of a rigorous research process, we have developed Lung-Support Plus to help your body in its daily struggle against environmenal pollutants. It combines four medicinal mushrooms and pure New Zealand Grape Seed extract to help ensure a healthy flow of oxygen to all cells in your body.
Mushrooms have been used for medicinal purposes for centuries. They are renowned for their ability to naturally support overall health and promote healthy lungs and airways. However, many mushrooms on the market are grown under questionable conditions which results in them accumulating contaminants, and for us that wasn't an option. For Lung-Support Plus, we tracked down mushrooms grown in a special sterile 100% certified organic facility in the USA on a bed of organic oats.
Grape Seed Extract provides powerful antioxidant properties. To improve the efficacy of Lung-Support Plus even further, we added a generous dose of a pure and very potent New Zealand Grape Seed Extract, known to have powerful antioxidant properties which help your lungs and airways neutralize the pollutants you breathe in every day.
Healthy lungs and airways are critical to your health and future comfort.
Lung-Support Plus is a natural, whole food supplement that delivers the FULL spectrum of benefits these medicinal mushrooms have to offer.
Add Lung-Support Plus to your regular monthly supplements for a safe, efficient and cost-effective way to receive added protection and long-term benefits.
More about our mushrooms
We use only the highest quality mushrooms, which are:
Certified 100% organic (USDA _OP standards)
Certified by Organic Certifiers (Cert. #13-323)
Certified Kosher by Earth Kosher Certification Agency
Contain no added desiccants, colorants, excipients, fillers or preservatives
Contain no GMO materials
Suitable for vegans
Guaranteed "Gluten-Free" under current FDA regulations (<20 ppm)
Cordyceps: A medicinal mushroom used in traditional Chinese medicine for over two thousand years. Cordyceps supports a number of health issues and is a powerful antioxidant. Read More
Reishi: Reishi mushrooms have been used extensively in Asia as the "mushroom of immortality". Reishi is known to promote longevity, resist aging, and boost energy. Read More
Chaga: A parasitic fungus that supports healthy breathing, modulating imbalances in the immune system and helping to manage inflammatory conditions in the lungs. Read More
Turkey Tail: A common polypore mushroom with strong immune boosting effects, Turkey Tail can help resist seasonal ailments and support healthy lung function. Read More
Supplement Facts
Serving size: 4 Capsules
Servings per container: 30
Other Ingredients: Capsule (Hydroxypropylmethyl Cellulose, Water).
Does not contain dairy, soy, peanut, wheat, gluten, fish, crustacean, egg, tree nuts
If you are pregnant, lactating or taking any medications, please consult your doctor before use.
L1435-2
Servings per bottle: 30
Daily Serving: Adults: Take 4 capsules per day, with or without food.
Either take 4 capsules first thing in the morning or split into 2 doses (in the morning and later in the day).
We have included below a copy of a typical Certificate of Analysis (CoA) for our Lung-Support Plus product.
All of the Xtend-Life Lung-Support Plus products have the same formulation and standards.
Please note that we produce all of our products regularly throughout the year. You can be assured that every bottle, from every batch will meet these exceptional standards, and it will be from a current, recently produced batch.
You will note that there are two columns which are headed 'Specification' and 'Results' respectively. The specifications are simply our minimum standard to which each batch of Lung-Support Plus has to conform, otherwise we would not release it. The results are the actual results from the independent laboratory that did the testing.
If you would like any more information about our commitment to providing you with the best quality nutritional supplements, please contact us.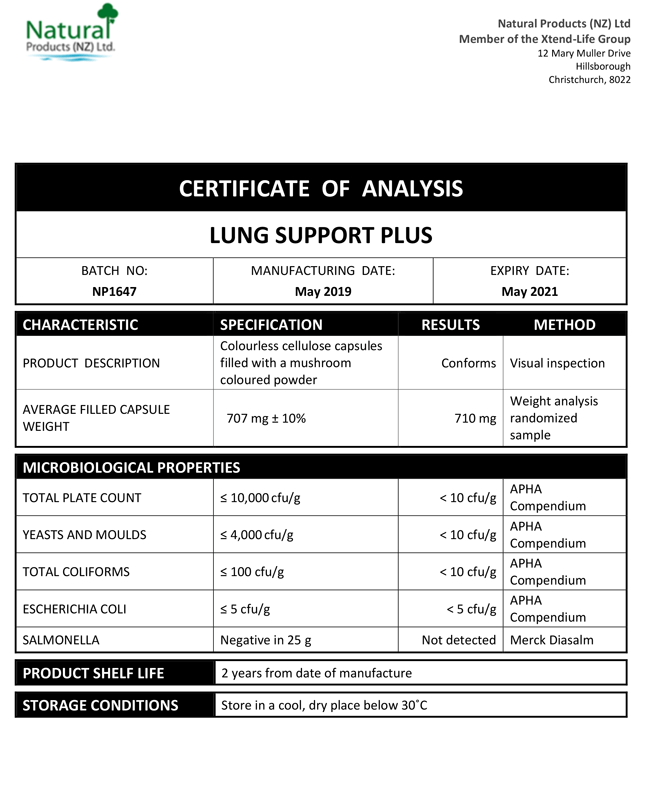 ​
Products bought together with Lung-Support Plus
Supercharge your immune system with 21 powerful natural ingredients.
A premium quality multi-vitamin containing 48 bioavailable vitamins, minerals, nutrients, antioxidants & herbs to help promote optimal health.
Boost your health, energy and appearance with our best superfood powder yet.
Frequently Asked Questions
What are the benefits of Lung-Support Plus?
Lung-Support Plus has been formulated to provide maximum support for a healthy immune system and healthy organs. This also provides support against the many environmental toxins that are present in the air that we breathe today.
I have asthma and I use an inhaler – can I use Lung-Support Plus.
Lung-Support Plus is not a replacement for any prescription medication, but you may find the product helpful. Please refer to your doctor for advice.
What environmental pollutants can affect lung health?
There are literally thousands of chemicals that we can be exposed to via the air we breathe that can be harmful to our lung health. They come from a broad range of fossil fuel burning and other industrial activities.
I suffer from seasonal allergies, could this product help me with this?
Yes, the medicinal mushrooms in Lung-Support Plus have a long history of use to support healthy immune function. This may be helpful for those suffering from hay fever or other breathing issues.
Can this product help with my immunity?
Yes, the medicinal mushrooms in Lung-Support Plus have a long history of use to support healthy immune function. This may be helpful in strengthening the immune system against seasonal ailments.
What is the difference between the medicinal mushroom blend in Lung-Support Plus and Zupafood ELITE?
Lung-Support Plus contains our all natural blend of Cordyceps, Reishi, Chaga and Turkey Tail Mushrooms which are selected for their effectiveness in supporting the good health of the lungs and airways. These Mushrooms also support the health and function of the immune system, while supporting against environmental pollutants in the air which we breathe in each day.
Our Zupafood ELITE includes Cordyceps, King Trumpet, Agaricus and Lion's Mane Mushrooms which may have a variety of actions including helping to: increase vitality and energy, support healthy blood circulation and blood sugar levels, support the immune system and nervous system, maintain healthy brain and cognitive function, boost sex drive and support healthy cellular function.
Should I use Lung-Support Plus or Zupafood ELITE?
This depends on what you would like to achieve. Lung-Support Plus is strongly focused on the ability of medicinal mushrooms to support the health and function of the lungs and immune system. This also provides support against the many environmental air pollutants that we are exposed to daily.

Zupafood ELITE is a superfood product delivered in powder form and consumed as a drink to boost energy levels, support cardiovascular health, immunity, libido and to help increase mental alertness. There may also be various long term benefits to be gained from using this product such as support for bones and joints.

Please contact our Customer Care Team here if you would like help with choosing the most suitable product.
What are the ingredients in Lung-Support?
Lung-Support Plus contains a blend of 4 organic medicinal mushrooms; Chaga (Inonotus obliquus), Cordyceps (Cordyceps Militaris), Reishi (Ganoderma lucidum), Turkey Tail (Trametes versicolour also known as Coriolus versicolour) and also our potent New Zealand Grape Seed Extract.
Why have you chosen to use medicinal mushrooms?
The medicinal mushrooms used in Lung-Support Plus are all supported by strong scientific evidence and have all been subjected to sustained and rigorous studies over recent decades. These medicinal mushrooms all have a history of use as folk or traditional medicines for at least 500 years, and in some cases, at least 2,000 - 3,000 years. These mushrooms have unique and powerful health and immunity supporting qualities. Please see the ingredient pages for each of these mushrooms for more information.
Will this product help if I am trying to quit smoking?
Lung-Support Plus provides medicinal mushrooms and Grape Seed Extract which have been shown to provide powerful antioxidant benefits to support the health, vitality and healing of vital organs. This will support the health of your lungs even if you are a smoker. However, this product is not an aid to stop smoking and the product cannot offset all of the damage caused by smoking.
See all related FAQs here