XTEND-LIFE CERTIFICATIONS, MEMBERSHIPS & QUALIFICATIONS:
Superfood for Healthy Skin
Love the skin you're in with this innovative skincare treatment. Zupafood™ for SKIN contains a potent blend of superfoods plus an additional 2,000 mg of marine sourced collagen for firmer skin and a reduction in the appearance of wrinkles. Flavored with real blueberries, Zupafood for SKIN is a tasty tonic that not only supports your skin but works to revitalize your overall well-being.
Why you'll love Zupafood™ for SKIN:
Enjoy healthier, more youthful looking skin
Support fuller hair and lustrous nails
Reduce the visible signs of aging
Gain a natural energy boost
Enhance your overall health and well-being
What is Zupafood™ for SKIN?
Zupafood™ for SKIN is an oral supplement designed to revolutionize your skincare routine. We wanted to create a product that was more than just a collagen boost – a product that works to restore not only the surface of your skin, but all of the internal systems that contribute to a glowing, healthy appearance. With a scientifically formulated blend of New Zealand's finest superfood extracts, Zupafood™ for SKIN nourishes your skin at a dermis level, while also supporting your body's complete wellbeing.
Why do I need it?
Our skin is constantly under pressure. Modern lifestyles bombard our skin with pollutants, UV rays and harmful chemicals – not to mention the natural wear that comes from aging. To fortify and restore your skin, you need to take action from the inside out, replenishing your body with specifically targeted nutrients.
Zupafood™ for SKIN has been carefully crafted to nourish your skin at the deepest level, combining a scientifically tailored mix of the highest quality ingredients into one easy-to-consume packet. Don't wait until the damage has been done – give your body the fuel it needs to stand up to the elements, so you can face the day brighter, stronger and healthier.
How does Zupafood™ for SKIN work?
Zupafood™ for SKIN harnesses the power of natural superfood extracts and our own Collactive™ formula to optimize your skin's natural processes.
For your skin, hair & nails
As we age our natural levels of collagen and elastin start to fall. Zupafood™ for SKIN helps you fight this decline with 2,000 mg of fully digestible collagen and elastin in every serve. Derived from sustainable marine sources, these components help to firm and lift sagging skin, minimize the appearance of wrinkles and support healthier skin and nails.
For a more youthful appearance
To make Zupafood™ for SKIN even more effective, we have also added a L-Glutathione, Vitamin C and additional red grape skin extract. These ingredients deliver powerful antioxidant properties for long term, age-defying results.
For all-over radiance
The overall health of your body has a huge impact on the appearance of your skin. Zupafood™ for SKIN contains a potent medley of New Zealand super fruits, all harvested locally. This signature Xtend-Life blend includes kiwifruit extract, grape seed extract, grape juice powder, red grape skin extract and apple fiber. Together these ingredients support your whole body to thrive, which in turn does wonders for your skin.
For your bones
Zupafood™ for SKIN helps to raise your calcium levels with a unique form of plant calcium. Produced by red algae it is highly bio-available and won't build up in your cardiovascular system. We have included 500 mg in every serve, which equates to the calcium benefits of eating an entire cup of raw spinach!

… And for your taste enjoyment!

Zupafood™ for SKIN superfood powder is sweetened with stevia and flavored with 100% real blueberries – free from all artificial additives or flavorings. Simply mix with water or your favorite beverage and enjoy a refreshing tonic that is as delicious as it is natural.
Supplement Facts

Serving size: 1 packet
Servings per container: 30
Amount Per Serving
% Daily Value*
Calories
25
Sodium
47 mg
2%
Total Carbohydrates
3.5 g
Sugars
1.6 g
Protein
2 g
Calcium
(from Aquamin™ Marine Algae and Calcium Ascorbate)
166 mg
18%
Vitamin C
(from Calcium Ascorbate)
60 mg
100%
Collactive™ (Marine collagen and elastin polypeptides)
2000 mg
**
Glutathione (Reduced)
100 mg
**
Green Tea extract
70 mg
**
New Zealand Superfood Blend
3000 mg
**
(A proprietary blend of Grape Juice Powder, Kiwifruit Powder, Apple Fiber Powder, Grape Seed Extract, Grape Skin Extract, Kiwifruit Extract)
Other ingredients: Flavors (Natural Blueberry, Malic Acid, Citric Acid), Natural Sweetener (Stevia Glycosides), Grape Skin Extract.
Contains Fish
Does not contain soy, dairy, gluten, peanut or shellfish
C1379-2
Dosage: Adults – take at least one packet per day. If desired it is perfectly fine to have 2 - 3 packets per day of any one or a combination of our Zupafood products.
Add the contents of one packet into the Zupafood shaker.
Add water, juice or your favorite beverage and shake vigorously.
Drink immediately while the ingredients are in suspension.
Cold or warm water is fine, but do not use hot water as it can cause the ingredients to come out of suspension.
Warning: If you are pregnant or breastfeeding, please check with your doctor before taking Zupafood for SKIN.

Please view Certificate of Analysis (CoA) below. You can be assured that every packet, from every batch will meet these exceptional standards.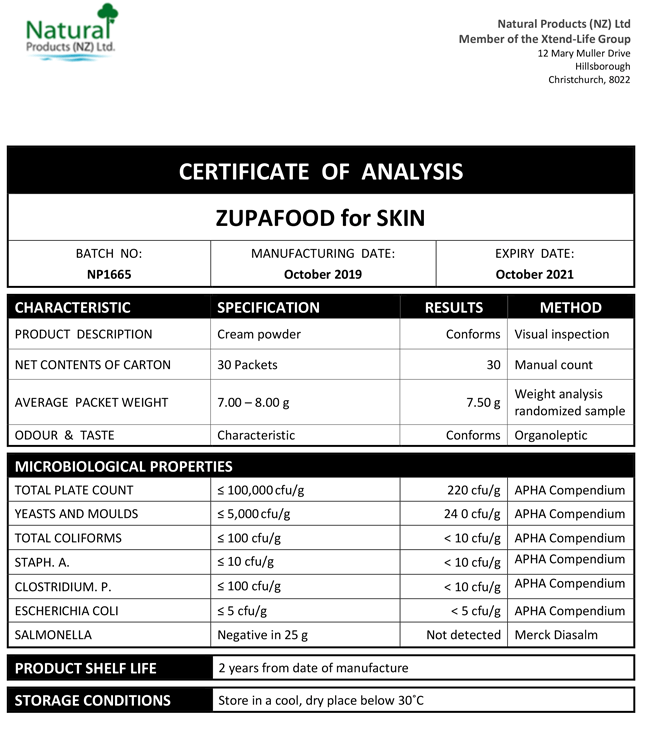 Products bought together with Zupafood™ for SKIN
Our exclusive skin nutrition formula that works to reduce the appearance of fine lines & wrinkles.
Boost your health, energy and appearance with our best superfood powder yet.
Restore your body's balance with this rich array of green superfoods plus spirulina.
Frequently Asked Questions
What are the differences between the three Zupafood™ products?
All Zupafood products contain the special Xtend-Life 'Superfood' blend made up of organic fruit extracts, green tea extract and marine calcium. Zupafood GREENZ contains additional organic greens to support digestive health and gently detoxify the body. Zupafood for SKIN contains marine sourced collagen to nourish skin from within. Zupafood ELITE contains the largest array of ingredients with the superfood base blend, organic greens and marine sourced collagen as well as high potency medicinal mushrooms to support energy levels, cardiovascular health, immunity, the libido and to help fight the signs of aging.
Where is the marine calcium used in Zupafood™ For SKIN sourced from?
We use Aquamin® TG Marine Calcium which is extracted from red algae (Lithothamnion species). This unique plant is only found in three remote areas around the world. Ours is sourced off the coast of Ireland. During its growth phase, these algae absorb essential minerals directly from the sea, giving Aquamin® TG Marine Calcium its unique and potent multi-mineral content.
Is Zupafood™ a meal replacement?
No. Some people may mix it with a smoothie and consider this a 'meal', however it is not designed to offer all the nutrients required as part of a balanced meal.
Can Zupafood™ be taken together with other Xtend-Life products?
Yes, Zupafood is perfectly safe to be taken at the same time as any of the other Xtend-Life products.
Can I use more than one Zupafood™ version at the same time?
Absolutely. For example, you may wish to take GREENZ to support your detoxification and digestion, plus SKIN to support your skin health as well. There is no risk of taking too much of any one ingredient in the Zupafood products.
Should I stop taking Total Balance or Multi-Xtra if I am going to start using Zupafood™?
Although Zupafood is packed with nourishing ingredients, it does not contain the complete array of vitamins and minerals you require from your diet. For this reason, we encourage you to keep using Total Balance or Multi-Xtra at the same time as Zupafood.
Can you overdose on the ingredients in Zupafood™?
No, there is no need to feel concerned about taking too much of the ingredients in Zupafood.
Is Zupafood™ a better choice than Total Balance to provide the ultimate array of ingredients and support for overall health?
Total Balance, as part of our Core Wellness Activators, is the best product available for maintaining overall health. It contains 98 potent vitamins, minerals, enzymes, amino acids and micro nutrients and offers gender specific versions for targeted health benefits. However, Zupafood is ideal for people who have trouble digesting or absorbing supplements in tablet form. Zupafood also creates an energizing effect and offers a refreshing way to take in an abundance of nutrients.
How much Iron in is Zupafood™ SKIN?
There is a maximum of 2000 ppm of Iron in Aquamin TG which is part of the base blend in all the Zupafood versions, this is equivalent to a maximum of 0.2%. There is also an additional 1 mg of iron per serving of Zupafood for SKIN which is naturally occurring in the other ingredients.
If my Zupafood™ has gone hard in the packet is it still okay to consume?
Yes, it is still fine to consume Zupafood powder even if it has slightly hardened. The efficacy of the product is not affected. Gently shaking or breaking up the contents will allow you to prepare the powder as normal.
Is Zupafood™ a good option for people that have difficulty in swallowing tablets, such as the elderly?
Zupafood is perfect for those who have trouble with tablets. Zupafood is especially ideal for elderly people as their appetite and digestive function may begin to wane, making it harder for them to obtain sufficient nutrients through the diet alone.